Wireless bridges and cellular devices
Industrial Communications
Wireless technology continues to grow due to its cost-efficiency and ease of use. Without the need for physical and expensive cable runs, wireless be can deployed quickly and easily. With wireless, remote assets can be quickly installed, managed easily and there is no longer the need to negotiate right-of-way access.
Our industrial cellular routers are ideal for using 3G and 4G to secure remote access to Ethernet or serial networks. With industrial Wi-Fi and satellite modems, connectivity can be provided to devices where cellular networks are not available.
VIDEO: Extending industrial communications – a cost effective, cable free solution
The GhostBridge solution is a wireless Ethernet bridge that was developed to help establish point-to-point communications at fast speeds.
Previously businesses who wanted to extend their network between buildings would need lay expensive and labour intensive cables or run new cables and install fixed points at permanent locations. Our GhostBridge wireless Ethernet bridge solves this problem.
Key benefits
Minimise expensive and labour intensive options and installation costs
No configuration necessary – simply plug and aim for signal strength. Ethernet extender will start transmitting within a few minutes
Can be placed up to 15kms apart and will transmit data at up to 150Mbps
Ideal for indoors or outdoors applications – Outdoor rated,  UV stabilised enclosure
PoE – no additional power supply required, as power is drawn through the Ethernet cable
Antenna integrated into housing
Can be easily moved to new location as required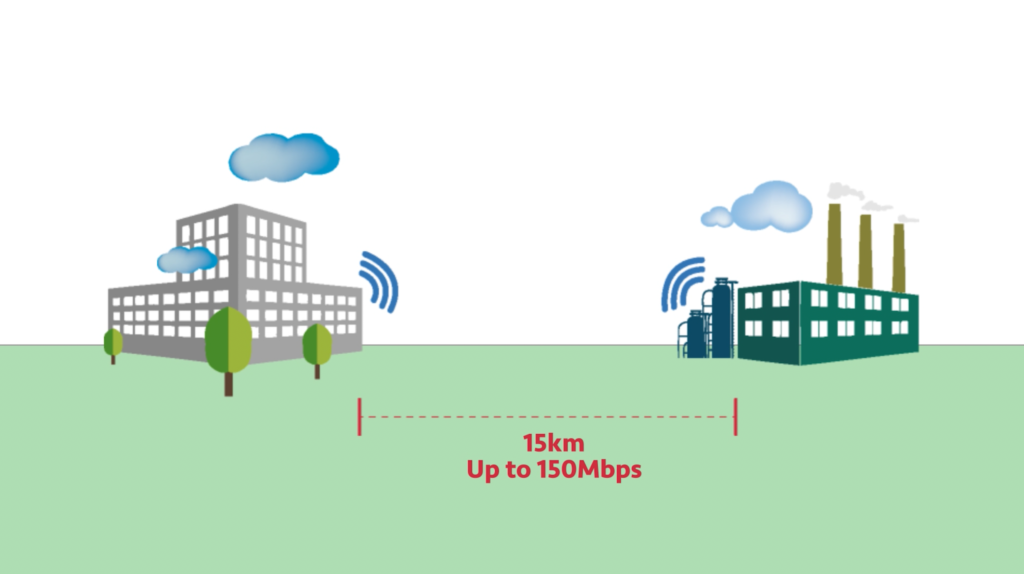 Technical features of the GhostBridge
Ultra-high-speed – up to 150Mbps
Long range transmission – up to 15km line of sight
WPA2, 128-bit security provides data-safe operation
License Free – 5 GHz radio, 2×2 MIMO technology…no low-tech proprietary RF chipset
Ethernet connectors: RJ45, auto MDI/MDX – pass-through Ethernet connection available
Temperature Range: -30°C to + 80°C
Dimensions: 28.0 x 8.0 x 6.0 cm
Mounting: Integrated pole mount (optional wall mount kit sold separately)
Request the GhostBridge Ethernet bridge datasheet.
Request the GhostBridge Ethernet bridge Quick Start guide.
Applications

Create a transparent, secure, high-speed link between remote stations and a central office

Bridge two networks or hard-to-reach nodes together

Connect remote devices (IP camera, or other) to a LAN

Replace expensive cables that are prone to damage in harsh environments

Remote data acquisition

Remote data monitoring

Remote control and commands
Suppliers

Advantech B+B SmartWorx

Connect Tech

Gemalto
Advantech B+B SmartWorx
Micromax Technology partners, Advantech B+B SmartWorx supplies a range of wireless and cellular solutions including:
Connect Tech
GPS/GNSS
Connect Tech's GPS/GNSS line of products include a GNSS receiver based on the very small industry standard M.2 Type-2242-S3-B form factor, and a ruggedized GPS module based on the very small industry standard Mini PCIe "Full" module format. With small form factors, these GPS/GNSS products will take up little space and power within a system.
Cellular/satelite M2M
Connect Tech's RoadWarrior enables remote monitoring, controlling and collecting of data from multiple I/O interfaces through a wireless cellular data link or Low Earth Orbit (LEO) satellite.
Connect Tech's RoadWarrior enables remote monitoring, controlling and collecting of data from multiple I/O interfaces through a wireless cellular data link or Low Earth Orbit (LEO) satellite.
Wireless radio modems
Connect Tech's wireless radio modems are available in license-free frequency ranges of 900 MHz and 2.4 GHz. They are designed with wireless modules from Cirronet, featuring frequency hopping spread spectrum (FHSS) technology. This technology ensures immunity to jamming and multi-path fading, so you get robust, reliable wireless communications, even in noisy environments.
Industries

Intelligent Transportation Systems (ITS)

Manufacturing

Agriculture

Security

Infrastructure

Medical

Rail and public transport

Logistics

Marine

Retail

Audio and Video

Information and Communications Technology (ICT)

Defence

Educational
Contact Us
Why work with Micromax Technology? Our Brands
We represent reputable, reliable and high quality global brands. Our People
We have a team of specialised engineers with decades of experience in providing technological recommendations for problem resolution. Our Support
We have an Australian-based Warranty and Support Centre serviced by our field application engineers.
Providing innovative technologies and solutions to help our clients succeed