May 1, 2017
ADLINK Technology, a Micromax Technology partner, is a leading global provider of embedded building blocks and application-ready intelligent platforms enabling the Internet of Things (IoT), today announced their new Rotary Machine Condition Monitoring Starter Kit. This is an all-in-one package providing a cost-effective solution for 24/7 online monitoring and failure prediction. The kit includes a 24-bit 4CH USB DSA, a Phoenix GM Lite Microsoft® Windows-based machine condition monitoring utility license, and a PCB 603C01 accelerometer with 10 ft. connecting cable and magnetic mount. The kit benefits users by preventing hazardous malfunction and reducing maintenance costs.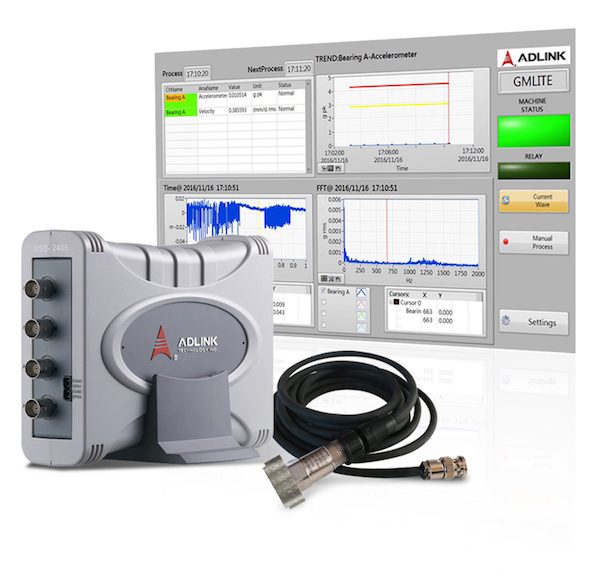 ADLINK's Rotary Machine Condition Monitoring Starter Kit is an optimized solution targeting both system integrators and operators in rotating machinery, tooling, and plant and automation equipment industries, enabling immediate confirmation of solution POC. With ADLINK's complete solution and professional technology support, customers can effectively shorten the project schedule of the imported machine condition monitoring program.
Start projects anywhere
ADLINK's USB-2405 4CH 24-bit DSA module intuitively supports simple and effective microphone and accelerometer measurement for vibration and acoustic applications. Compelling features including built-in IEPE 2mA excitation current source on each channel with no additional signal conditioning requirement, and anti-aliasing filters enabling auto-adjustment of cutoff frequency to sampling rate for suppression of out-of-band noise. In addition, the USB-2405's USB bus power makes it perfect for portable field measurement when used with laptop.
Click here for the starter kit brief.
Efficient, easy, machine Condition Monitoring application
The Phoenix GM Lite utility monitors and analyzes rotating machinery, calculating a variety of overall (OA) bandwidths and condition data and generating alerts when predefined alarm and condition parameters are exceeded. Threshold settings can be user-defined or set at default ISO 10816 machinery vibration standards. The Phoenix GM Lite utility is based on visual analysis function blocks, enabling convenient and quick construction of the required software function via a convenient user interface, enabling complicated, multi-task analysis without any programming.
Integral magnetic accelerometer mounting
The accelerometer included in the ADLINK Starter Kit provides frequencies from 0.5 to 10kHz and a maximum amplitude of 50G. Perfect for rotating machinery condition monitoring, the accelerometer attaches magnetically to the device to be measured, allowing easy relocation to any test point, reducing the cost and effort normally associated with non-returnable tapping meters.
Related video
Intel Atom x5-e8000 – ADLINK COM modules for Industrial Automation
Related products
Find out more
To find out more about our advanced IoT solutions, please contact Micromax Technology.
Categories: Industrial Communications, IoT/M2M