Industrial Communications
Serial enabled devices continue to be used in new and existing applications. Many sensors and scales in operation today use a serial interface.
Serial to fibre optic converters let serial devices pass their data across fibre lines, which are inherently resistant to electromagnetic interference, RF interference, and electrical transients. Ethernet serial servers connect serial device to Ethernet networks. Wireless serial converters do the same, via Wi-Fi. The protocols and the media may change, but the data itself keeps moving.
Serial was not invented to connect devices to the Internet of Things. But, thanks to serial conversion, they'll be connected just the same. Our extensive range of serial conversion and isolation products will ensure your serial equipment will continue to communicate and integrate smoothly into new technologies. Micromax Technology's line of rugged, wide-temperature serial products feature standard and optoisolated RS-232/422/485 serial interfaces, Ethernet, CAN bus, GPS, and digital I/O functions.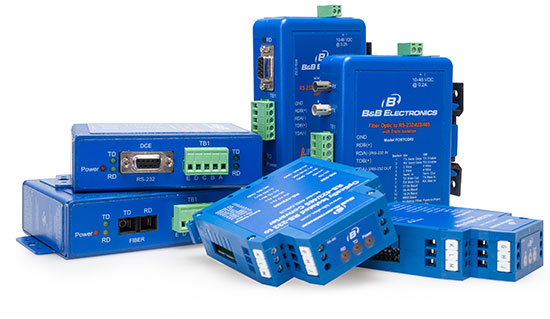 Find out more
Serial converters
Micromax Technology has the high-performance serial converters you need for all your applications. Offering serial to fibre optic converters, serial to parallel converters, CAN converters and repeaters, protocol converters, and much more.
Data isolation and repeaters
Whether you need an optical repeater, high speed data isolation repeater, or a non-isolated repeater, we provide a large selection of high performance industrial communications solutions for many applications.  With our data isolation and data repeaters, you can protect your electronics from power spikes, lightning surges, dangerous ground loops, and accidental high voltage shorts, while increasing your data line range
Industrial surge protectors
Protect your equipment and data from harmful power surges and voltage spikes with industrial surge protectors.  Our heavy duty and single stage surge protectors can manage all your essential surge suppression requirements.
PCI serial port cards
Device connectivity is made easy and reliable with our PCI serial port cards. No matter what your networking needs, we will be sure to provide the tailored solution you need from our large range of serial cards. Control or access data and enjoy fast, cost-effective communications from a variety of serial devices. Our PCI serial cards are ideal for industrial and time-sensitive applications including applications in automotive diagnostics, HVAC, Point-of-Sale, court reporting, security, and SCADA.
Applications

Communication between modern computers and long-standing machinery

Serial conversion

Electrical isolation

Media conversion
Suppliers
Industries

Manufacturing

Utilities

Medical

Rail and public transport

Security

Mining

Agriculture

Logistics

Marine

Retail

Audio and Video

Intelligent Transportation Systems (ITS)

Information and Communications Technology (ICT)

Defence

Education
Contact Us
Why work with Micromax Technology? Our Brands
We represent reputable, reliable and high quality global brands. Our People
We have a team of specialised engineers with decades of experience in providing technological recommendations for problem resolution. Our Support
We have an Australian-based Warranty and Support Centre serviced by our field application engineers.
Providing innovative technologies and solutions to help our clients succeed