Industrial Communications
Ethernet Switches & Routers
Micromax Technology offers a varied selection of rugged and reliable Ethernet devices designed with modern businesses demanding applications and environments in mind. Every industry is now able to get their devices connected to Ethernet backbones and networks. We supply Ethernet Extenders, Ethernet Switches and Ethernet Routers.
Ethernet Extenders
Ethernet extenders are an effective method of expanding your Ethernet LAN connections as needed. The extenders are simple to arrange and can be installed on top of existing copper cables.
The innovative Ethernet Extender from Advantech B+B SmartWorx can expand your network up to 5 ½ kilometres over your existing copper wires. Go even farther over fibre optic lines with our Ethernet media converters.
VIDEO: Effortlessly extend your existing internet or communications data network
Ethernet Switches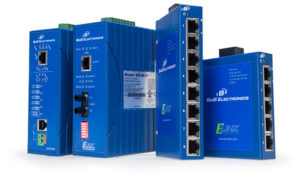 We provide high performance Ethernet switches to ensure quality connectivity and communication. Our products are easy to install and cost effective with the capacity to withstand wide-ranging temperatures from -40C to +80C.  Our switches also have the option of single and multi-mode fiber optic ports. Micromax Technology supplies a comprehensive range including managed, unmanaged, industrial grade, ultra-compact, DIN-rail mount, multi-ports, Power over Ethernet (PoE), gigabit options and more.
Ethernet Routers
Features of our Ethernet routers include firewall support, VPN security, SNMP management and robust design to handle harsh environments.  Use of an Ethernet router can create ease in data exchange and redistribution.
Applications

Network management

Data information control
Key features from our range of Ethernet switches and routers
Advantech B+B SmartWorx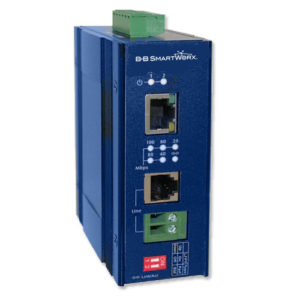 Ethernet Switches
From ultra-compact 5 and 8-port models that take up less than an inch in your crowded cabinet, to 26-port rack mount models for complex applications, we've got you covered. Most of our switches have options like single and multi-mode fiber optic ports, and wide operating temperatures for use in hot enclosures and sun-baked installations. We even add redundant power inputs so you can add a back-up power supply to keep your connections up and running. We also have Gigabit, Power-over Ethernet (PoE) and sophisticated management options.
Connect Tech
10 GbE & 1 GbE embedded Ethernet switches & NICs
Connect Tech offers a variety of Gigabit Embedded Ethernet Switches and NICs including 12, 24, and 36-port solutions, switch boxes, boards, embedded systems, a 10G switch/router, and a 10G Ethernet controller. These high density, high port count carrier grade Ethernet solutions are ideal for a wide range of military, industrial, and commercial applications.
Diamond Systems
Diamond Systems offers a variety of rugged, small form factor, managed Layer 2+ Ethernet switches with features that support a breadth of applications.  Diamond Ethernet switches support transportation, medical, aerospace and defence and other applications found in the harshest environments. All I/O connectors on the switches are latching, providing enhanced reliability over the RJ-45 connectors used in commercial Ethernet switches. A 50% thicker PCB provides better protection against vibration in vehicle environments. The -40ºC to +85ºC operating range makes DSC Ethernet switches suitable for use in outdoor and vehicle applications.
Diamond's Ethernet switches are standalone and do not require any host computer interface. All switch functions are managed by a microprocessor embedded directly into the switch. The processor is accessed via an in-band web interface over one of the Ethernet ports or via an out-of-band command-line interface over an RS-232 serial port. The integrated web interface provides an intuitive GUI for use in configuring and managing all switch functionality. On-board memory holds dual application images, boot code, MAC addresses, and other parameters, and can also be used for program execution.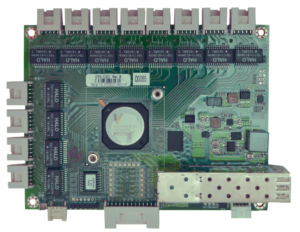 Diamond Systems' innovative Ethernet switch boards include automatic power savings via two unique features. The switches can detect unused Ethernet ports on network devices and power them down or place them in stand-by mode. Additionally, the switch actively adjusts the power level needed based on cable length, saving energy on links shorter than the 100m maximum specified length. Input power is provided through the built-in, wide-range power supply, enabling operation using industrial power sources.
Industries
Contact Us
Why work with Micromax Technology? Our Brands
We represent reputable, reliable and high quality global brands. Our People
We have a team of specialised engineers with decades of experience in providing technological recommendations for problem resolution. Our Support
We have an Australian-based Warranty and Support Centre serviced by our field application engineers.
Providing innovative technologies and solutions to help our clients succeed