LED digital display for outdoors
Industrial Communications
Micromax Technology offers a range of digital displays with the latest SuperBright LED technology used to provide luminous power, durability and reliability when reading from various angles. The digital displays may be used for both indoor and outdoor spaces. Our three main digital displays are photovoltaic, industrial safety and visual communication displays.
Photovoltaic Displays
Photovoltaic displays utilise renewable energy technology by using photovoltaic polarisers to harness external light and the LCD screen's back light – effectively using them to power the digital display.
By using photovoltaic displays, companies show their commitment and investment in renewable energy to customers and the public. Displays can be tailor designed can to ensure you meet your branding style guides.
Industrial Safety Displays
Industrial safety displays are an effective method of reminding employees of workplace safety by providing a visualisation of accident statistics. In creating a digital display, however simple or complex, raising awareness and prioritising the need for safety can reduce the number of workplace injuries and accidents.
The robust design of these displays will allow for them to be placed in public spaces and harsh environments including exposure to dirt, dust, extreme temperatures and humidity. Designs can be created based on your branding needs.
Visual Communication Displays
Micromax Technology offers a wide array of custom designed numerical, alphanumeric, weight and graphic display boards. To create additional support against the environmental elements, the digital signage is also able to include weather-proof varnishing, protective weather cover and temperature-controlled heating.  In addition, outdoor display LED lights are able to adjust to lighting conditions.
The visual communication displays are up to 2 metres high and readable from 300 metres away. Both wireless or standard interface data transmission are supported.
Request Brochure – Siebert – Displays for industrial safety
Request Brochure – Siebert – Displays for the for Photovoltaic
Request Brochure – Siebert – Displays for weighing technology
Request Brochure – Siebert – Numeric and alphanumeric displays
Applications

Instrument displays

Roadside signs

Safety signage

Outdoor signage

Productivity display

Customer communications

News alerts for employees

Indoor signage
Suppliers

Matrix Orbital

Siebert
Matrix Orbital
Intelligent display
Covering the most popular liquid crystal display configurations, control of the modules has been simplified to a set of commands delivered via RS232, RS422, I2C and USB. Meant to save time and money, Matrix Orbital have worked to ensure that the tedious timing and special conditions typical of display controllers have been eliminated from their interface.
Economy display

Matrix Orbital's economy line of Liquid Crystal (LCD) and Vacuum Fluorescent displays (VFD) allow the ease of RS232, I2C or USB communication designed for high volume projects requiring a low cost, high value display. Features include software controlled back light and contrast, 3 GPOs and the Matrix Orbital intelligence and ease of use.
Parallel displays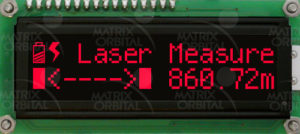 Parallel displays come in many different sizes ranging from 1 line x 8 characters to 4 lines x 40 characters. Features include:
Alphanumeric or high-speed Graphic LCD
Colour LCD options available are white, yellow-green, amber, red, green and blue
Can operate in temperatures from 0 to +50 degrees C in the normal range and -20 to +70 C in the extended temperature range.
Voltage available: 5.0V (and some 3.3V)
Contrast control with STN (Super-twisted Nematic) or FSTN (Film-compensated Super-twisted Nematic)
2 light transmission modes available:

Transmissive LCDs have a transparent rear polarizer and do not reflect ambient light. A backlight is required and will work best in low light conditions.
Transflective LCDs are a mixture of reflective and transmissive types with the rear polarizer having partial reflectivity and combined with a back light. Can be operated in direct sunlight without loss of clarity.

Reflective – By combining a reflector with the rear polariser, ambient light is used to illuminate the display in reflective mode. It works best in an outdoor or well-lit office environment.
Operational Life: LED back lights offer a long operating life – 50,000 hours minimum. The advantages of LED back lighting are its low cost, long life, immunity to vibration, low operational voltage, and precise control over its intensity.
Wide variety of fonts available from Hebrew to Cyrillic to European
Other parallel displays available: Vacuum Fluorescent (VF.D) and Polymeric Light Emitting Diodes (PLED)
Siebert
Digital displays for the photovoltaics
Siebert digital displays are suitable for any photovoltaic system and can also be connected subsequently to existing systems.
The following connections are available as standard:
Impulses of an electric meter (S0 Interface)
Serial interface of the inverter or data logger (RS232 or RS 485)
Ethernet interface (RJ45)
WLAN
LED Technology
The latest LED technology is used in Siebert digital displays. LED displays distinguish themselves through their high luminous power and durability. Their big viewing angle allows convenient and reliable reading even when looked at from the side.
The LED digits light actively and draw spontaneously – differently acting to passive LCD displays – the attention of the viewer.
Easy parameterization
An intuitively software allows easy and fast parameterization of the displays. Furthermore the series XC440/XC450, XC460/XC470, XC480 and XC445/XC455 can be parameterized via Bluetooth.
Innovative technology
Siebert digital displays are based on decades of experience in the development and manufacturing of digital information systems. The systems are continuously developed further, new technical standards are implemented as close as possible to the products. Downward compatibility is always a target.
Other digital displays by Siebert
Siebert are specialists in digital displays and design a variety of products that cater for all types of applications and environments. The Siebert product range includes:
Large size displays (Alphanumeric/Graphic, Numeric)
Panel mount displays
Digital displays for industrial safety
Digital displays for weighing technology
Components and software for digital displays.
Industries

Utilities

Infrastructure

Intelligent Transport Systems (ITS)

Telecommunications

Manufacturing

Security

Defence

Mining

Agriculture

Gaming

Medical

Sporting

Mining

Government

Educational
Contact Us
Why work with Micromax Technology? Our Brands
We represent reputable, reliable and high quality global brands. Our People
We have a team of specialised engineers with decades of experience in providing technological recommendations for problem resolution. Our Support
We have an Australian-based Warranty and Support Centre serviced by our field application engineers.
Providing innovative technologies and solutions to help our clients succeed