Micromax Technology partners with Foremay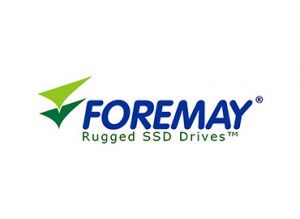 Founded in Silicon Valley in 2002, Foremay, Inc., is a leading company dedicated to designing and developing of rugged Solid State Drives (SSD) for mission critical computing, industrial computing, embedded computing and rugged servers. Foremay's vision is to bring high reliability, high ruggedness, high security, high performance and low power consumption to rugged flash hard drive industry. Foremay's solid state disk benefits your business and systems with high reliability (anti-vibration, anti-shock and anti-drop), high security (hardware based Self Encrypting Drives, military secure erase and self-destruction function), ultra-fast read/write speed, and long durability rugged storage solutions. Our solid state hard drive also significantly extends the battery life of your rugged mobile computing systems and devices.
Foremay was founded by a team of semiconductor and computer industry veterans from Cisco, IBM, NEC, Nokia, Alcatel and AT&T Bell Labs. The headquarters are in Pasadena, California, USA. Foremay has been listed on the world Top 10 SSD OEMs by the independent third party StorageSearch.com.
Supporting industries
Foremay provides technological solutions to benefit industries such as:
Related Products

Rugged Data Storage
Contact Us
Why work with Micromax Technology? Our Brands
We represent reputable, reliable and high quality global brands. Our People
We have a team of specialised engineers with decades of experience in providing technological recommendations for problem resolution. Our Support
We have an Australian-based Warranty and Support Centre serviced by our field application engineers.
Providing innovative technologies and solutions to help our clients succeed