Powerful stackable single board computer
Latest News
Stackable PC/104 Single Board Computer set to raise the bar in industrial designs
November 1, 2017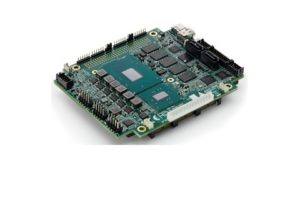 Micromax Technology is eager to introduce the innovative implementation of powerful processing and high-speed I/O in a PC/104 module – the ADLINK CMx-SLx PCI/104-Express Type 1 single board computer. This is based on the 64-bit 6th-generation Intel® Core™ processor. The whitepaper below explains how ADLINK's latest PCI/104-Express board has now entered a new phase with powerful processors and high-speed I/Os. This advanced solution will greatly enhance computing needs in transportation and industrial applications.
Download ADLINK CMx-SLx single board computer datasheet
Features of the CMx-SLx range
Up to 8GB DDR4-ECC soldered memory
3x DDIs, including: 1x micro HDMI
1x mini DP and 1x LVDS
4x PCIe x1 and 1x PCIe x 16
2x GbE, 2x SATA 6Gb/s, 1x USB 3.1
6x USB 2.0, 2x COM, 8x GPIO
Smart Embedded Management Agent (SEMA®) functions
Extreme Rugged operating temperature: -40°C to +85°C variant
Related video
The superiority of mechanical standards in product design and development
Find out more
Contact Micromax Technology to find out more about our range of single board computers.
Related products
Categories: Embedded Computing, Single Board Computers