Artificial Intelligence industrial camera release – NEON-J by ADLINK
Latest News
New AI industrial camera release – NEON-J by ADLINK
May 8, 2019
ADLINK has announced the release of its NEON-J. It is the first Artificial Intelligence (AI) industrial camera to integrate the NVIDIA® Jetson™ TX2, image sensor, and I/O control in a compact chassis serving machine vision applications at the edge. Partnering with Micromax Technology, ADLINK is a leading provider of building blocks and intelligent platforms for edge computing.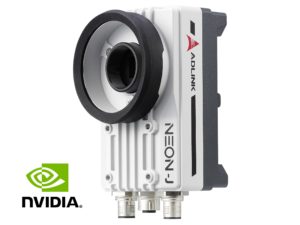 The NEON-J AI industrial camera has been designed to address problems beyond the current machine vision algorithms. NEON-J utilises cutting-edge NVIDIA GPU technology and ARM Cortex-A57 processors, enabling robust Deep Learning inference, empowering defect inspection and object classification requirements in manufacturing environments.
Additionally, a neural model optimised by NVIDIA tools like Digits or TensorRT can be deployed on the NEON-J directly, easing development of user-specific machine vision solutions.
The NEON-J by ADLINK provides an Ethernet port for GigE camera connection, 4x digital input, 4x digital output, 1x communication port, and VGA output for maximum integration.
NEON-J Key Features
Compact integration of nVidia Jetson TX2 and 2Mp 60fps color image sensor
Easy installation supporting machine vision applications
256 core Pascal nVidia GPU supports Deep Learning Inference
ARMv8 (64-bit) multi-processor CPU complex for heterogeneous multi-processing
Global shutter image sensor
1x Ethernet port, 1x USB and 1x RS-232
4x digital input, 4x digital output, 1x trigger input.
Download this Datasheet (PDF) to learn more about the NEON-J ADLINK AI industrial smart camera including software support, ordering information and product specifications.
Find Out More
Micromax Technology provide various Industrial Communication, AI and Smart Camera solutions for Australian and international businesses.
To find out more, contact our team of engineers on 1300 906 911 or complete our online form.
Related video
Categories: Industrial Communications