Latest News
Mobility, Medical and Industrial Automation IoT Solutions with Intel® Atom™ x5-E8000 processor
April 6, 2016
New COM modules and Mini-ITX embedded boards with 14 nm technology offer improved performance and cost-effectiveness. 
Our suppliers, ADLINK Technology, a leading global provider of cloud-based services, intelligent gateways, and embedded building blocks for edge devices that enable the Internet of Things (IoT), today announced the release of four embedded computing solutions designed with the Intel® Atom™ x5-E8000 processor. Built with 14 nm technology, the Intel® Atom™ processor boosts performance and reduces power consumption for mobility, medical and industrial automation applications. The newly-updated COM Express® cExpress-BW, SMARC®  LEC-BW, Qseven® Q7-BW modules, as well as the AmITX-BW-I thin Mini-ITX embedded board, now offer better cost-performance ratios as a result of improved computing capability.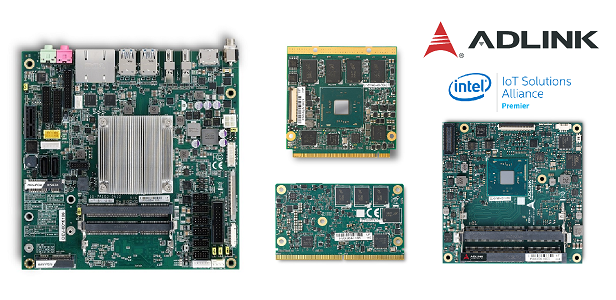 The latest Intel® Atom™ SoC, released in Q1 2016, features 64-bit quad-core processing that is ideal for multi-tasking applications. The processor offers a configurable TDP (cTDP) of only 5 watts at 1.04 GHz, enabled by its 14 nm core transistors. With the new processor, ADLINK embedded boards and modules also support up to 8 GB of dual channel DDR3L 1600 MHz memory and up to three independent displays with Intel® HD graphics.
"ADLINK is committed to building the Internet of Things with products that offer exceptional value and performance," said Henk van Bremen, senior director of ADLINK Module Computing Product Segment. "Our latest embedded solutions provide the most efficient design options for low-power yet graphic-intense edge applications such as mobile tablets, medical carts, and infotainment kiosks."
Advanced performance from ADLINK
The new COM modules and Mini-ITX board run graphics processing on a base frequency of 320 MHz with eDP/DP/HDMI interfaces for up to three display ports, an increase in the number of ports over previous COM Express modules. In addition to 4K resolution, Intel® Gen9 Iris Graphics offer excellent 2D/3D hardware acceleration with decoding support for HEVC H.265, MPEG2, MVC, VC-1, WMV9, JPEG, and VP8, and encoding support for HEVC H.265 MVC and JPEG. Graphics support also includes Open GL for graphics rendering, Intel® Quick Sync Video for fast conversion to mobile format, and Intel® clear Video HD Technology for better quality video.
With faster I/O processing and a rich selection of I/O features, ADLINK's latest computer-on-modules satisfy the requirements for a wide range of applications. The cExpress-BW COM Express Compact Size Type 6 module offers four USB 3.0 ports, an increase over the two ports in the previous model. All new modules offer three or more USB 2.0 ports, three single-lane PCIe expansion slots and two SATA 6 Gb/s interfaces. The AmITX-BW-I board features high connectivity with four USB 3.0 and four USB 2.0 ports, HDMI, and one single-lane and one Mini PCIe slot. With its thin Mini-ITX form factor, this embedded board serves as a space-saving solution for infotainment, industrial and medical applications. The Q7-BW Qseven Standard Size module and LEC-BW SMARC Short Size module each offer support for two MIPI camera serial interfaces, making them ideal for stand-alone image-capture edge applications.
Innovative system monitoring technology
ADLINK embedded boards and modules are equipped with ADLINK's Smart Embedded Management Agent (SEMA) to provide detailed system data at the device level including temperature, voltage, power consumption and other key information. Access to system activities allows operators to identify inefficiencies and malfunctions in real-time, thus preventing failures and minimising downtime. ADLINK's SEMA-equipped devices connect seamlessly to the SEMA Cloud to enable remote monitoring. All collected data, including sensor measurements and management commands, are accessible from any place, at any time through an encrypted connection.
Find out more
Contact Micromax Technology to find out more about our solutions that enable the Internet of Things (IoT).
Related products
Categories: Industrial Communications, IoT/M2M