Latest News
New Product: Video Conversion for SWaP Constrained Systems HDMI to HD-SDI miniPCIe Converter
May 15, 2019
Advanced Micro Peripherals, a Micromax Technology partner, has just launched the HDMI2SDI-mini.
The HDMI2SDI-mini is a HDMI to HD-SDI converter on a miniPCI-express form factor card. The HDMI2SDI automatically converts High definition HDMI to HD-SDI and is an intelligent module that requires no user configuration.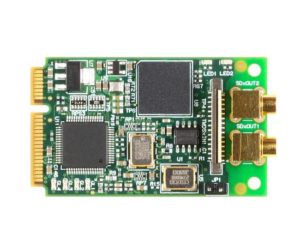 The compact form factor means the HDMI2SDI is ideal for video conversion in SWaP constrained systems.
The HDMISDI-mini takes in the HDMI signaling over a single flat flex connector. The HDMI is converted and output as HD SDI on a 75 Ohm MCX connector. A secondary HD-SDI output is available as an option to allow 2 HD-SDI outputs to be driven.
This SWaP-optimised solution is ideal for rapid deployment in demanding applications in Defence, Telecommunications, Infrastructure, Mining and Utilities industries. The HDMI2SDI/mini is powered via the miniPCI-express connector, consuming less than 3.3W.
HDMI2SDI/mini Features:
HDMI input up to 1080p30
Primary HD-SDI output – 75 Ohm MCX connector
Secondary HD-SDI output – 75 Ohm MCX (option)
Low power operation (3.3V @ <1A)
Single +3.3V operation
Find Out More
Micromax Technology provide various Embedded Computing, Industrial Communication and Power Supplies solutions for Australian and international businesses.
To find out more, contact our team of engineers on 1300 906 911 or complete our online form.
Related video
What makes Micromax Technology unique?
Related products
Categories: Digital Displays, Embedded Computing, Industrial Communications, Rugged Computers